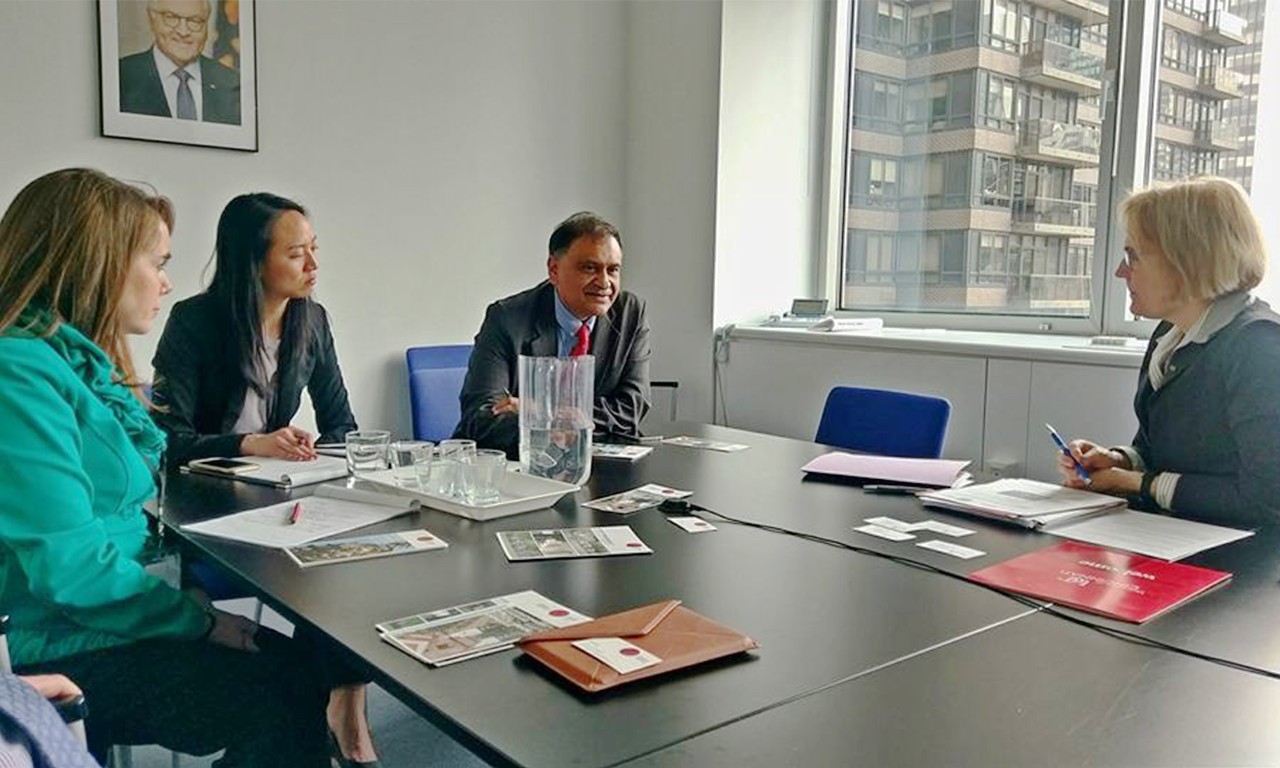 In 2012, UC International created seven global advisory groups.
More than 100 faculty, staff and community representatives work in these strategy groups. The groups were created with the mission to
Connect the University of Cincinnati to a small number of partners in geostrategic regions of the world where we can focus our efforts and resources on collaborations that embody UC's vision of global impact, innovation, and inclusion.
Build long-term, comprehensive relationships with institutions that are mutually invested in the partnership at the institutional level and that consider UC a key partner in advancing their own global strategy.

Enhance the University of Cincinnati's global impact by building broad and deep collaborative relationships between faculty, scholars, and researchers worldwide.
Nurture innovative teaching collaborations and provide a rich variety of international educational opportunities for our students.
Support creative and sustainable initiatives that will help grow and diversify our UC community.
Strong and sustainable partnerships like these are more vital than ever. Transnational, diverse and interdisciplinary teamwork drives innovation to solve the complex problems of our world.

Strategic Partner Institutions
The University of Cincinnati's strategic partners may be

Universities of comparable breadth and stature that are committed to collaborative research, mobility, and sharing of best practices.
Regional clusters of universities with complementary strengths and scope that can engage multiple UC colleges in research and programmatic collaborations across our major disciplines.

Developing institutions with which UC can have a mentoring relationship beneficial to both sides.
Beijing Jiaotong University (BJTU), located near the main transportation center in China's capital city of Beijing, is one of the oldest universities in China.
Chiba University is a national university located in Chiba Prefecture of Japan, an area noted for its industrial, intellectual, and international achievements.
UC's partnership with Chongqing University has brought about the creation of the Joint Co-op Institute, placing CQU as the first institution in China to adopt the cooperative education model – founded at the University of Cincinnati in 1906. 
Christ (Deemed to Be) University is a highly-ranked private, comprehensive university in Bangalore.
Future University in Egypt (FUE) and the University of Cincinnati signed an agreement for academic partnership in July 2013. It includes undergraduate programs in FUE's Faculty of Engineering & Technology, Faculty of Commerce & Business Administration, Faculty of Eceonmic & Political Science and Faculty of Computers & Information Technology.
In collaboration with FUE professors, an academic team from UC reviewed the curricula in the four faculties and identified areas for improvement commensurate with the Egyptian Ministry of Higher Education and international quality standards. As a result, UC recognizes the programs in these four faculties as qualified for partnership and certification. Students receive a diploma in affiliation with UC.
Our collaboration also includes a number of joint activies including, but not limited to, student and professor exchanges, research projects, seminars and annual audits.
Pontificia Universidad Javeriana (PUJ), located in Bogotá, Colombia, is a research-based university, the first to be granted institutional accreditation by the Colombian Ministry of Education.
The Université du Québec à Montréal (UQAM) is a public French university located in the heart of Montreal, Canada, with a focus on social issues and research.
The Université Internationale Casablanca (UIC) in Morocco was founded in 2010. It has since flourished into a top-ranked private university.
The University Alliance Ruhr (UA Ruhr) is an alliance of the Ruhr-Universität Bochum, TU Dortmund University and the University of Duisburg-Essen. UA Ruhr represents one of the largest and high-performing research locations in Germany.
The University of Bordeaux (UBx), which was founded in 1441, is ranked among the top French universities. UBx shares UC's priorities of global engagement, diversity, collaboration, discovery, innovation and professional orientation.
Founded in 1962, the University of Cape Coast originally held a special relationship with the University of Ghana, Legon until 1971, when it became a fully independent university.
The relationship between UC and the University of Trento was founded on programmatic connections between our law and engineering schools. We are working on expansion into additional disciplines, including sociology, and on strong potential for research collaborations. Early student mobility is promising, with interest in long-term exchange for both.
Founded in 1669, the University of Zagreb is the oldest and largest university in South-Eastern Europe. The University contributes more than half of the annual research output in Croatia and boasts more scientific productivity than any other Croatian university.
UC faculty and staff can find more information on the role and responsibilities of strategy group members on the UC International intranet site.
Alfonso Cornejo

 - 

President, Hispanic Chamber Cincinnati USA

Brian Earl - Associate Professor of Communication Sciences & Disorders
Anne Sheridan Fugard - Executive Director, Study Abroad
Hannah Girman - Assistant Director, International Admissions

Ana Hincapie - Associate Professor of Pharmacy Practice & Administrative Sciences
Moises Huaman - Associate Professor of Clinical Medicine
Brian Hunter - Assistant Professor/Educator, Foreign Languages

C. Catherine Losada - Professor of Music Theory
David Madrid - Associate Professor of Spanish
Sue Mantel - Professor of Marketing

Gregory Marinic - Associate Professor of Architecture
Harnan Moscoso Boedo - Associate Professor of Economics
Michael Odio - Associate Professor of Sport Administration
Eugene Rutz - Associate Dean, CEAS
Nora Wagner - Assistant Dean for International Studies Programs and Dean, LLM Program, College of Law
Angie Woods - Professor of Spanish
Kate York - Assistant Professor of Nursing
Lee Armstrong - Director for International Programs, Lindner College of Business
Shelina Brown - Assistant Professor of Musicology
Michelle Burbage - Assistant Professor Educator of Public Health
Peter Chamberlain - Associate Professor of Industrial Design
Ashley Chang - Study Abroad Advisor
Sangyong Cho - Assistant Professor, Planning

Neil Choudhury - Assistant Director Global Opportunities, University Honors Program
Amu De Silva - Adjunct Assistant Professor of Rehabilitation, Exercise & Nutrition
Donghoon Kim - Assistant Professor of Aerospace Engineering & Engineering Mechanics

Minjin Kim - Assistant Professor of Nursing    
Dong-Gil Ko - Associate Professor of Operations & Business Analytics
Robert Lees - Community Adviser
Chao Li - Associate Professor of English
Alex Lin - Associate Professor of Pharmacy & Administrative Sciences  
Junko Markovich - Visiting Assistant Professor of Japanese
Michele McDonald - Assistant Director, Nationally Competitive Awards
Oxana Prokhorova - Director of Global Engagement, CEAS
Dong-shin Shin - Associate Professor of Literacy and Second Language Studies
George Vredeveld - Professor Emeritus, Dept. of Finance, Real Estate, and Insurance & Risk Management
Gowribalan (Ana) Vamadeva - Associate Professor of Mathematics
Nora Wagner - Assistant Dean for International Studies Programs and Dean, LLM Program, College of Law
Jason Chambers - Associate Director, International Admissions
Leo Chan - Greater Cincinnati Chinese Chamber of Commerce
Jeff Guo - Professor of Pharmacy Practice & Administrative Sciences
Shaorong Huang - Professor English & Communication
Thomas Huston - Professor Educator of Mechanical Engineering & Materials Engineering
Ye Liu - Assistant Professor of Rehabilitation Sciences
Yu Mao - Director of Business Affairs, University Libraries
Oxana Prokhorova - Director of Global Engagement, CEAS
Yichen Qin - Associate Professor of Operations, Business Analytics and Information Systems
Rob Rude - Assistant Professor of Sports Administration
Kurt Sassmannshaus - Professor of Violin, Starling Chair in Classical Violin
Thomas Stevenson-Shannon - Assistant Director, Study Abroad
Mei Tang - Professor of Counseling
Nora Wagner - Assistant Dean for International Studies Programs and Dean, LLM Program, College of Law
Jun Wang - Associate Professor of Environmental & Industrial Hygiene
Yuqing Zhang - Assistant Professor of Nursing

Victoria Appatova - Professor of Reading
Jody Ballah - Associate Professor of French
Theresa Culley - Professor of Biological Sciences
Chuck Doarn - Research Professor of Family & Community Medicine, Director of Telemedicine
Mark Halpin - Associate Professor of Stage Design
Linn Hykkerud - Sr. Admissions Counselor, International Admissions

Anne-Marie Jézéquel - Associate Professor Emerita, Department of Romance Languages & Literatures
Michelle Johns - Assistant Professor of Management    
Sarah Manchak - Associate Professor of Criminal Justice
Ryan Meyer - Associate Director - Academic, Study Abroad
Natalia Mintchik - Associate Professor of Accounting
Oxana Prokhorova - Director of Global Engagement and Chair, Honors Program, CEAS
Bob Stevie - Community Adviser; Past President, Cincinnati U.S.A. Sister Cities Association
Rainer vom Hofe - Professor of Planning
Nora Wagner - Assistant Dean for International Studies Programs and Dean, LLM Program, College of Law
Georg Weber - Professor of Pharmacy
Kate York - Assistant Professor of Nursing, Director of Global Health
Hannah Zimmerer - Assistant Director - Academic, Study Abroad
Nimisha Bhat - Assistant Librarian, UC LIbraries
Stefan Fiol - Professor of Ethnomusicology
Laura Jenkins - Professor of Political Science
Aarati Kanekar - Professor of Architecture
Andala Khan - Assistant Professor of Health Informatics
Prashant Khare - Associate Professor of Aerospace Engineering, Associate Department Head 
Nalini Kotagiri - Associate Professor of Pharmaceutical Sciences     
Rita Kumar - Professor of English
Michael Neugent - Associate Professor of Finance, MSF Academic Director
Shailaja Paik - Associate Professor of History
Robyn Stamm - Associate Professor of Nursing
Piyush Swami - Professor Emeritus of Education
Gowribalan (Ana) Vamadeva - Associate Professor of Mathematics

Nora Wagner - Assistant Dean for International Studies Programs and Dean, LLM Program, College of Law
Jon Weller - Director, International Admissions
Jagjit Yadav - Professor of Environmental Health
Hassane Amlal - Research Professor of Medicine

Nimisha Bhat - Assistant Librarian, UC LIbraries
David Edelman - Director, Master of Community Planning program  
Hazem Elzarka - Professor of Construction Management, Director of Graduate Programs
Muhammad Faruque - Associate Professor of Islamic Studies

Anne Sheridan Fugard - Executive Director, Study Abroad
Gordon Gillespie - Interim Dean, College of Nursing
Haider Hamoudi - Dean, College of Law
Henry Hane - Community Adviser, Executive Director of the Islamic Center of Greater Cincinnati
Ralph Katerberg - Professor Emeritus, Department of Management
Angela Livengood - Assistant Director, Study Abroad       
Olivier Parent - Professor of Economics
Mark Raider - Professor of History
Chris Surratt - Dean, College of Pharmacy
Gowribalan (Ana) Vamadeva - Associate Professor of Mathematics
Nora Wagner - Assistant Dean for International Studies Programs and Dean, LLM Program, College of Law
Vanessa Allen-Brown - Associate Professor of Education
Ibrahim Amidou - Adjunct Associate Professor of French
Charles Appeadu - Professor of Finance
Ekow Arthur-Mensah - Community Adviser, APNET Advisory Board
Kate Bonansinga - Dean, School of Art

Xan Boone - Professor Educator of Social Work
Kathy Burlew - Professor Emerita of Psychology
Neil Choudhury - Assistant Director Academic, University Honors Program
Jordan Crabbe - Assistant Professor of Math Physics & Computer Sciences
Laura Dell - Associate Dean of Academic Affairs, CECH
Seynabou Dieye - Study Abroad Advisor, UC International
Prince Ellis - Associate Professor of Economics
Jan Fritz - Professor of Planning
Marianne Ivey - Professor Emerita of Pharmacy
Hanan Kerr - Associate Professor of Medicine
Cedrick Kwuimy - Assistant Professor-Educator of Engineering Education
Bert Lockwood - Professor of Law and Director, Urban Morgan Institute for Human Rights
Geneva Miller - Associate to the Vice Provost, UC International

Lizzie Ngwenya-Scoburgh - Professor of Business & Economics    
Charles Schubert - Director, Global Child Health
Joseph Takougang - Professor of Africana Studies, Department Head
Gowribalan (Ana) Vamadeva - Associate Professor of Mathematics
Kate York - Assistant Professor of Nursing, Director of Global Health